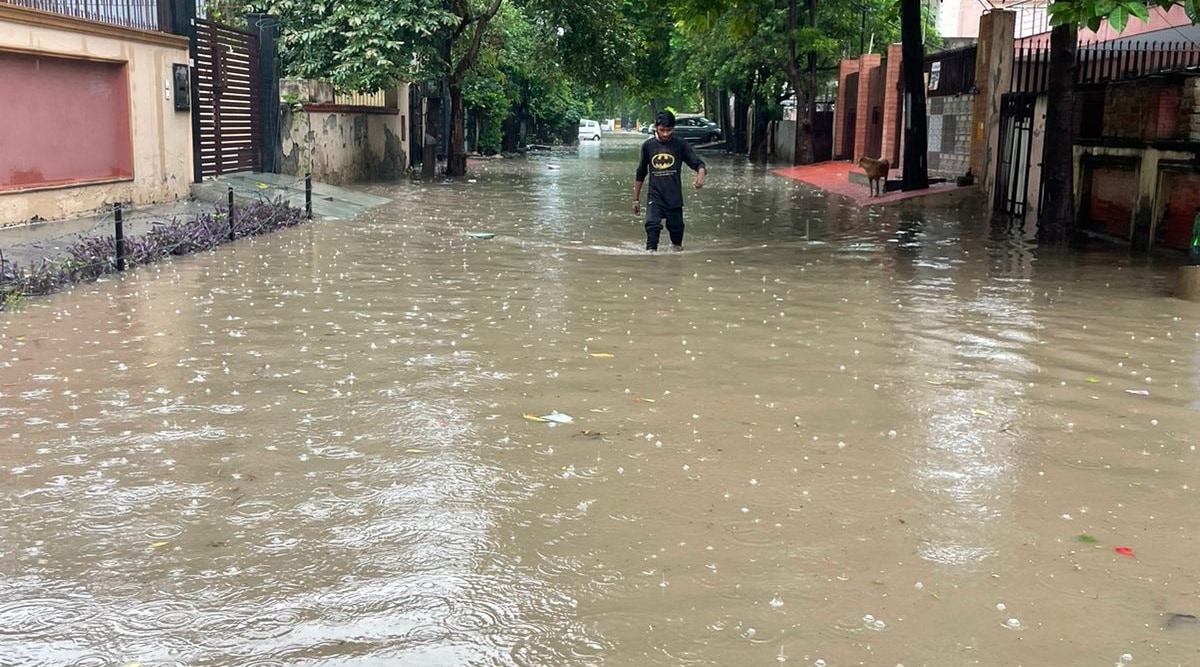 Waterlogging reported in several areas after rain
A bout of moderate rain for more than two hours on Sunday morning caused severe waterlogging in several parts of Gurgaon. Several vehicles broke down, pedestrians were stuck in knee-deep water and traffic was affected as water inundated major roads and internal sector areas.
Traffic police officials said the waterlogging was reported at Golf Course Road, Rajiv Chowk, Iffco Chowk, MDI Chowk, MG road, Signature Tower, Basai, Subhash Chowk, near the station of Huda City Center Metro, Manesar Bus Stop, Hanuman Chowk, Sector 4/5 Chowk, Krishna Chowk, Sector 21/22 Road, Near Wazirabad Traffic Lights, AIT Chowk, Kanhai Chowk, Near Mayfield Garden Chowk, Artemis Chowk, Sheetla Mata South City Road 1 and sections of National Highway 48. According to district administration data, Gurgaon received 19mm of rain till 5 p.m.
Experts have said that inadequate drainage infrastructure, urbanization and the disappearance of water bodies and lakes due to concretion, changing land use patterns, disruption of natural drains, encroachment on stretches along storm sewers and choked drainage lines were major reasons for flooding in the city each year.
Waterlogging at Signature Chowk of Gurgaon. (Photo: Traffic Police)
Sewa Ram, an expert in urban transport system design and a faculty member at the School of Planning and Architecture (SPA) in Delhi, said: "Over the years, concretization has taken place either above or in the route of the natural drains, which blocks the natural course of the water. Many newer areas and even parts of old Gurgaon along the Dwarka highway have no drainage infrastructure. In several areas, the drainage pipes are clogged due to construction debris or encroachments, so they do not have enough capacity to carry the heavy surface runoff during monsoons and if the drainage network is discontinuous, the roads will be submerged by rainwater. The drainage infrastructure was not designed to withstand high intensity rainfall.
At present, Gurgaon's rainwater is discharged from three main stormwater collectors – Leg 1, Leg 2 and Leg 3 (Badshahpur drain) with Badshahpur drain accounting for more than 60% of the network drainage system carrying runoff from more than 24,000 hectares of land. These main storm drains collect rainwater and convey it to the Najafgarh drain in Delhi. Experts said that Gurgaon, located at the foothills of Aravallis, previously had hundreds of water bodies, lakes and embankments (dykes) – indigenous structures – in the lower parts which acted as natural drainage columns in storing water and preventing flooding.
According to a 2018 district administration report, Gurgaon had over 640 water bodies in 1956, which were reduced to 251 in 2018.
"Natural drains have also helped recharge groundwater. With subsequent urbanization and construction, roads were built over these natural drains. Ghata, Chakkarpur, Nathupur, Kadarpur, Jharsa, etc. all had natural drains and ponds in the villages which served as recharge areas. The excess water would flow downstream to many smaller nullahs and prevent waterlogging. All of these have been filled and their water carrying capacity has been reduced due to encroachment or dumping of trash and debris. Also, the drains are not cleaned or desanded regularly, which compounds the problem," an expert said on condition of anonymity.
One of the worst affected sections during monsoons is the service road on the Khandsa-Narsinghpur section of the Delhi-Gurgaon highway and the low lying areas of Laxman Vihar and Sector 4A. Officials said the water is accumulating in these areas due to the topography, adding that the long-term solution to the flooding of the Khandsa section on NH-48 lies in the construction of Stage 4 of a 5.5 km between Vatika Chowk and the NH-48, the tender for which was recently launched.
Officials said on Sunday that the floods were due to the high intensity of rainfall in a short time.
An official said: "The problem of the clogging of underground passages has been largely solved through the construction of check dams and waterfalls, and the use of pumps. We are working to rejuvenate water bodies to solve the problem of waterlogging.
"Some pockets of Gurgaon received heavy rain today and waterlogging issues were reported in several areas. In most of them, water levels dropped within one to two hours. About Golf Course Road, one of the companies was pumping a large volume of its internal storm water, which added to the waterlogging in this stretch.The waterlogging was reported by residents of Area 28 and the GMDA team installed sets of pumps to solve the problem. Similarly, motor pump sets have also been deployed in Basai. Meanwhile, the construction of additional road gullies is underway near Sun City Company. No underpasses have been flooded under rain today," said Vikram Singh, Executive Engineer, GMDA.