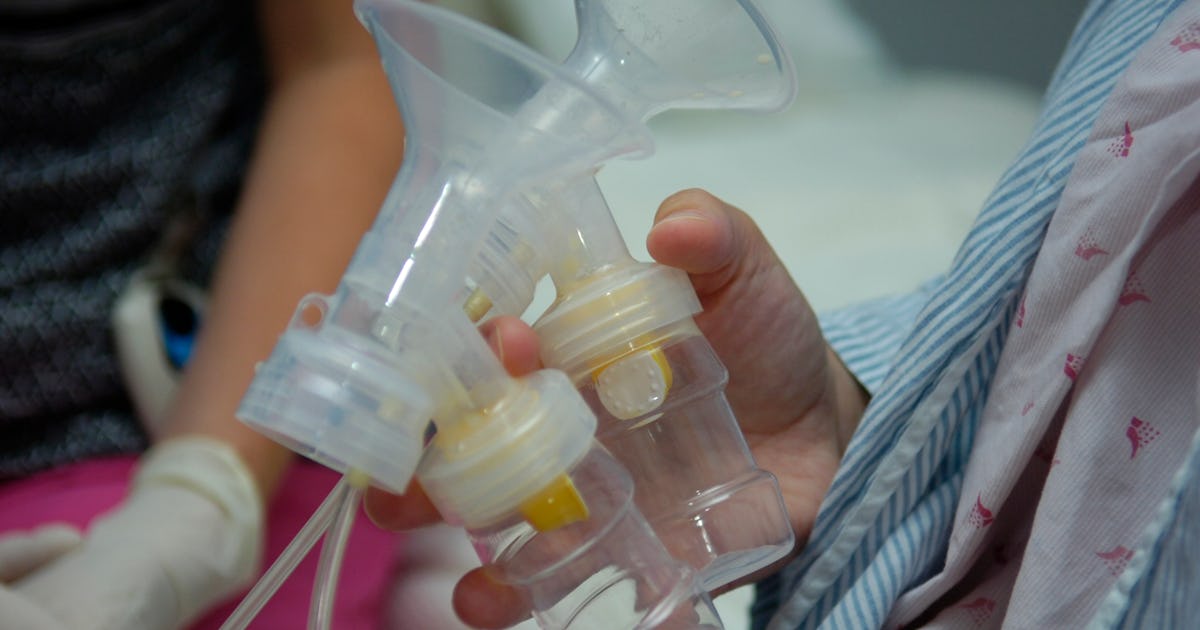 Should I bring my breast pump to the hospital? Experts weigh
When planning a delivery, one of the many things on your "must pack" list might be a breast pump. But is it overkill? Do you really need to bring a breast pump to the hospital? It sounds like the type of tool a hospital would have for a new mom. Romper asked experts if it was necessary to fix a lump on the chest before going to the hospital.
Should I bring my breast pump to the hospital?
If you've never given birth before, you may not know whether to breastfeed or use formula. And given the current formula crisis, breastfeeding might be your ultimate plan, at least initially. It is therefore not surprising that many patients worry about the need to buy a breast pump in advance.
But you don't necessarily have to, says Mary Lou Kopas, CNM, ARNP, chief midwife at UW Medical Center's Northwestern Midwifery Clinic.
"Yes, hospitals have pumps for patients to use when they are hospitalized for anything that might happen, like a baby in the NICU unable to breastfeed yet," she explains. So while you're on hospital property, if you need to pump, they've got you covered. But keep in mind that it will most likely be a hospital grade pump. This term refers to pumps designed for people with medical issues affecting their breastfeeding, for example the aforementioned baby in a neonatal intensive care unit or, for example, mastitis, a nasty duct infection. That said, you can't necessarily take said pump home. "Most hospitals don't distribute pumps to homes, but can arrange delivery of a rental pump on discharge day," Kopas explains. Plus, any parts attached to a pump in the hospital will be yours to take home. This includes attached cylinders, plastic lines and flange.
A rental pump is a great alternative, but keep in mind that everyone's insurance coverage is different. "And it could cost up to $300 to use," says Amanda Green, RN and IBCLC with Orlando Lactation and Wellness Services.
Each pregnant person receives a pump
And anyone planning to have a child should be well aware: "Since the Affordable Care Act, aka Obamacare, all pregnant women get a purchased pump covered by their insurance — it's mandatory," she says. The best way to find out how to get yours is to contact your insurance company to find out what they offer and place your order. Note that your insurance may offer a variety of options, for example an electric pump versus a manual pump. Keep in mind the work you will need to do to feed your baby and how a hand pump can prevent this.
Because of the Affordable Care Act rule, Kopas says most people these days already have a good pump at home and don't need a hospital rental. "If the baby is healthy and full-term, the pump is usually not needed for at least a few weeks," she says.
Should I bring formula milk to the hospital?
The other feeding factor that mothers are currently concerned about is the dangerous shortage of infant formula. With parents scrambling to get their hands on formula, you might be wondering if this is another thing to add to your hospital packing list.
Fear nothing. The hospital also covers you.
"We have formula in the hospital," Kopas assures anxious parents. "I think people should only buy formula when needed and resist the urge to stockpile," she adds. Kopas suggests that if parents plan to use infant formula, they should buy a small amount and keep it at home. Green agrees. "We will send them home with a small fee, but this may not be the case in all hospitals, so you should check with your healthcare provider," she says.
"If they are breastfeeding and the baby is full term, the likelihood of them needing to give formula is quite low and would usually only last a few days," she adds. Another thing to consider is donor milk as a way to feed a new baby.
"Many hospitals also have a milk donation program for babies whose mothers do not produce enough milk. For premature infants, getting human milk instead of formula can make a huge difference in their health outcomes (meaning they gain and grow faster and are less likely to have complications such as 'necrotizing enterocolitis),' says Kopas.
Sources interviewed:
Mary Lou Kopas, CNM, ARNP Chief Midwife at the Northwest Midwifery Clinic at UW Medical Center
Amanda Green, RN and IBCLC with Orlando Lactation and Wellness Services